Market Appraisal vs Valuation
What on earth is the difference?
There is a distinct difference between a Valuation and a Market Appraisal, however most Estate Agents use the terms interchangeably which is technically incorrect. While it may appear that they achieve the same result, there are different legal implications to what a Valuation can offer compared to that of a Market Appraisal conducted by an Estate Agent.
Valuations should be undertaken by a suitably qualified person such as a Chartered Surveyor using what is called the 'Red Book' known extensively across the profession. The Royal Institution of Chartered Surveyors (RICS) is the author of the Red Book which is now becoming globally accepted. The RICS also regulates the individuals registered to this industry.
A Market Appraisal can be carried out by anyone, but it's only really worth something if they know what they're doing, such as an Estate Agent. For example, you could carry out a Market Appraisal of your own home but whether it is realistic is the difference between you doing it yourself and getting an experienced Estate Agent to do this for you.
What the Estate Agent should do is not only put a price tag on your property, but be able to justify their recommendations with an accurate reflection of what the current market conditions are and have this explained to you carefully.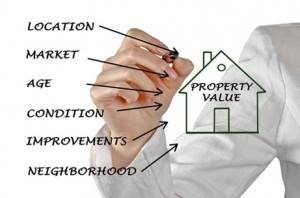 A Market Appraisal therefore is not the same as a Valuation and cannot usually be used for lending or funding purposes. A Valuation is carried out for a defined purpose and usually takes place after a buyer has committed to the purchase and either their bank requires a formal Valuation be undertaken so that they can rely on this document to secure funding against the property or they want one for piece of mind.
With our experience, we aim to have our Market Appraisals match the results of a formal Valuation as close as possible so as to ensure accuracy of expectation as well as minimising the potential for the sale falling through. This will also reduce the time spent negotiating and more time dedicated to dealing with any issues that may arise as the sale progresses.
We offer free Market Appraisals for anyone with an intention to sell or even those that are just curious.
If you require a Market Appraisal for other purposes, such as tax and estate planning, transferring an asset privately, probate valuations etc, our charges are £75+VAT (£90) for desktop appraisals or £150+VAT (£180) for a property visit. If you subsequently decide to sell the property through us at a later date, we will credit this fee to our final invoice ensuring you don't pay more than you should be.
---
Things to look for in a Market Appraisal
Understanding of your property
Similar properties currently for sale nearby
Freehold/Leasehold implications
Similar properties recently sold nearby
Property features referenced that add value
Recommendations to increase value
Justified realistic price range
Professionalism
Outline marketing strategy
Timescale to achieve an offer
Knowledge and experience
Compliance with Trade Bodies
---
Our Team - Ready to Help
…plan

your

move